International Policy Digest Features Interview with CEO of The Citizens Foundation
This interview, taken by Justin L. Wilson, was originally published in International Policy Digest
The Citizens Foundation (TCF) is one of the largest non-profit organization in Pakistan in the field of education. It was founded in 1995 by a group of citizens in Karachi.
TCF's CEO, Asaad Ayub Ahmad, has been an ardent supporter of education over a long period of time. While he progressed in his career through senior positions at ExxonMobil, Shell and British Petroleum, Asaad's interest in education and his involvement with The Citizens Foundation (TCF) as a volunteer and supporter continued to deepen, until he joined TCF as Chief Executive Officer in 2009.
Asaad holds an MBA degree from the University of Texas Austin and a Bachelor degree in Civil Engineering from N.E.D University of Engineering and Technology, Karachi.
Thank you for taking the time to participate in this discussion. Can you give us a brief overview of The Citizens Foundation?
Thank you very much for the opportunity.
The Citizens Foundation (TCF) started its journey back in 1995 when a group of aware and concerned citizens came together to make a meaningful impact in the education sector of their country – Pakistan. What started as a dream to bring about a positive change in society turned into a reality that has only grown stronger with the passage of time. Today 20 years down the lane, TCF is one of Pakistan's leading non-profit organizations dedicated to the field of formal education for the less-privileged.
The TCF model focuses on imparting good quality education through purpose-built schools located in the heart of Pakistan's urban slums and rural communities. The idea is to develop young minds so they become more aware and responsible citizens who are not only financially independent but are essentially future agents of social change.
To date, we've established 1,060 school units and have 165,000 students currently enrolled. TCF strongly believes that female education is the key to broader uplift in the community and therefore ensures that girls represent nearly 50% of overall student enrollment. To achieve this, TCF engages an all-female faculty and builds its schools well within walking distance for most of the community's children, particularly girls.
What are the obstacles children and young adults face in acquiring an education in Pakistan?
It is estimated that 25 million children in Pakistan are currently out of school. Unfortunately, two in every three out of school children are girls. There are a number of issues contributing to this problem. 30% of children in Pakistan don't attend school because of lack of finances and distance to the school. Additionally, 34% of females are not in school due to cultural reservations.
TCF Model addresses all of these challenges by providing scholarships to students who cannot afford school fee, building schools close to marginalized communities and employing an all-female faculty so parents don't hesitate or face cultural barriers in sending their daughters to school.
Contrary to the popular belief that parents don't want to send their children to school, the mindsets are actually changing. A majority of parents, even within the low-income segment, are willing to provide good quality education to their children. So the issue is more of education supply rather than demand.
During a recent visit by Pakistan Prime Minister Nawaz Sharif to the U.S., the White House announced new education accords in which the U.S. Agency for International Development will spend $70 million to provide access to schooling for 200,000 Pakistani girls. What are your thoughts on the initiative?
Such initiatives are always quite encouraging. We welcome any initiative that has the potential to help in the sphere of education. The problem of education in Pakistan is huge and requires sustained, long-term commitment to efforts in the public as well as private space. Efforts such as these help immensely by bringing much needed resources and attention to the problem.
We hope that the funds provided are matched to real education needs. Pakistan's Constitution mandates that the government provide compulsory education to children ages 3-16, however state schools leave a lot to be desired. Teacher absenteeism also continues to plague our public schools. Clearly, more needs to be done. TCF is trying to fill the supply gap by providing quality education wherever possible. However, the supply-demand gap is so high that all stakeholders, public and private need to come together if we want to address the issue successfully and find a sustainable solution to the education crisis.
What has been TCF's impact?
The value TCF provides is greater than just teaching individuals how to read and write. TCF has developed its own books aimed at fostering critical reasoning and creativity amongst its students and initiated mentoring programs to channel the aspirations of senior students. With our students now entering some of the best institutions for higher education and starting promising professional careers, the impact on individual lives is quite apparent.
This self-improvement leads to a snowball effect where they become a more influential family member, a role model for siblings and source of hope and inspiration for the entire family. Furthermore, many of them attract greater respect from their community and essentially become the agents of positive change we had hoped for.
Gradually, our role in the community is expanding beyond schooling. Our adult literacy program for women called 'Aagahi' (an Urdu word meaning 'awareness') is giving the gift of literacy to 10,000 women every year while more than 14 water purification plants have been set up in TCF schools to provide clean drinking water to our communities.
At a broader social level, TCF's scale and scope of operations developed over the last 20 years is making an impact in a number of ways. With women comprising 85% of our 13,000+ employees (100% of our faculty) and many of them assuming positions of respect and influence within the school communities, we would like to believe that we are helping provide female role models and advancing the female empowerment agenda in these communities.
TCF is now being seen by key stakeholders managing public education as a practical and cost-effective model for quality education at a large scale. We are eager to work with the Government to help improve the efficiency and effectiveness of public education and some pilots in this regard are already under way.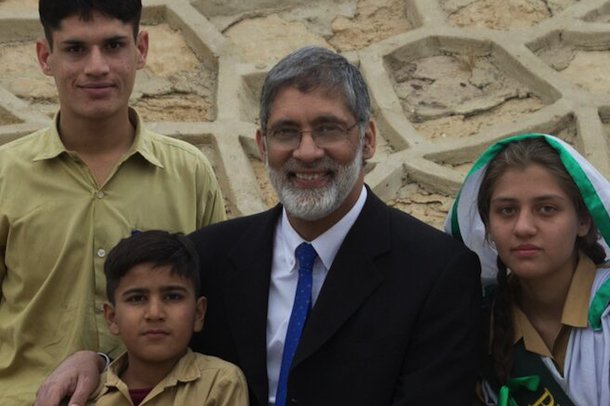 Education can be the difference between temporary pain alleviation and long-term solutions. From poverty to public health issues to intolerance, so many of our biggest social problems can be traced back to poor education, we believe we are addressing them head on by providing quality education. In today's globalized society, that also means we are contributing to a fairer and safer world.
At its most fundamental level, TCF is a great example of active citizenship – an organized response by ordinary citizens to a shared problem. We hope that this will inspire others to take ownership and act – after all, if we are not part of the solution, we are part of the problem.
Can you describe a typical TCF school?
A standard TCF Primary School has a capacity of 180 students, 6 classrooms and a total covered area of up to 6,000 – 6,500 square feet. While a standard TCF Secondary School has a student capacity of 180, 5 classrooms and a total covered area of up to 7,200 square feet. Our secondary schools are also well equipped with physics, chemistry, biology and computer laboratories. All school units have their own well-stocked libraries as well as sizeable playgrounds to allow for sports and physical education.
Each TCF school has a female Principal, all-female faculty and administrative staff. The idea behind having all female teachers is to attract a higher number of girls to school from the vicinity. 722 TCF vans provide pick and drop to TCF teachers across Pakistan every day to provide them a safe environment and an easy commute to TCF schools. Furthermore, to make the most of the physical infrastructure, we have 281 schools running an afternoon shift as well.
How did TCF grow from a project amongst a few individuals to build more than 1,000 schools across the country?
The credit of our success and growth goes to the people working and associated with TCF in various capacities. Of course, donor support in terms of providing land, building and other resources has been crucial to our success. We have thousands of volunteers in Pakistan and around the world working tirelessly to raise funds and create awareness about the cause. Additionally, we have 13,000+ team members working with TCF including teachers and principals who are devoted to the cause of education and go the extra mile to make a positive difference.
TCF started its operations with just five school units in 1996. With each passing year, we have been able to bring improvement. By 2002, TCF had established 100 school units. After careful surveying, we identify potential locations where our schools are needed and our school network continues to grow. Each new location is appraised through an extensive land survey, assessment of income level, number and standard of existing schools in the area, demand for new school units, availability of an accessible site to build a school, qualified teachers in the area and a number of other criteria.
How is TCF funded? Could you speak about its management and leadership structure?
TCF is funded primarily through private philanthropy – both individuals and corporations. It costs approximately $12 to educate a child for a month in a TCF school and $11 are raised through donations almost equally from Pakistan and abroad. Our supporters have not only come from different walks of life but also from different countries to stand united for this cause. We have a total of eight international chapters or fundraising entities, including one in the USA. All of them along with the Head Office operating in Karachi, Pakistan, fundraise to build and support schools in Pakistan.
TCF prides itself on a commitment to professional management and institutional sustainability. TCF's Board of Directors and senior management set high internal standards for the entire organization. TCF has been recognized locally and internationally for its innovative approach and contribution to the field of education. Between 2010 and 2015, TCF received the Schwab Foundation's Social Entrepreneur of the Year Award at the World Economic Forum, the Ramon Magsaysay Award, the Skoll Award for Social Entrepreneurs and the World Innovation Summit for Education (WISE) Award. TCF has also received recognition for its management quality and governance standards by the Management Association of Pakistan (MAP), South Asian Federation of Accountants (SAFA), Institute of Chartered Accountants of Pakistan (ICAP), Institute of Cost & Management Accountants of Pakistan (ICMAP), Pakistan Centre for Philanthropy (PCP) and JCR-VIS Credit Rating Co. Ltd
Can you tell us about some success stories of students who have been educated through TCF?
Every student who comes through TCF's doors is a success story for us. Many TCF alumni go on to become TCF teachers, helping to equip the next generation of students with the skills and knowledge they will need to become positive agents of change. Other students go on to receive higher education in Pakistan and abroad.
Uzma Salim who was part of the first batch of students graduating from a TCF school has become a beacon of light for so many girls in Pakistan. Hailing from a remote village, Uzma decided to fight against the odds to get an education while also supporting her mother by giving tuitions and stitching clothes to make ends meet. With excellent effort in her academics, Uzma secured A grades throughout her education and completed her MBA at the top of her class. She then decided to take the Central Superior Services (CSS) Examinations to become a part of civil services. She stood 17th among all 13,000 candidates who appeared for this high competitive test. Today, Uzma Salim is well on her way to becoming a policy maker, serving as an Assistant Accountant General in Pakistan Audit and Accounts Services.
Another inspirational success story is that of Anum Fatima. After graduating from TCF in the year 2006, Anum completed her MBA from the College of Business Management in Karachi and went on to become the first girl in her family to attend college. In the year 2013, she received a scholarship to attend the summer program at Harvard University. At the completion of the program, Anum was selected to be the Grand Prize Winner in her class. During a subsequent internship in Washington DC, Anum designed a micro lending project for her community with Julie Garel, Project Director at Convergence, a policy research organization. She launched the project upon her return and so far, Anum has already provided micro loans to two families, helping them improve their own lives.
These were children facing some of the toughest odds on earth and they persevered. Each student is an inspiration to our mission and we want each and every one of them to realize their full potential.
What are TCFs plans with regards to making their education model more scalable?
We are aiming for a period of rapid scaling up – as much as 10 times growth in the next 10 years – to be able to educate 1.5 million children! The road to 1.5 million children in our schools would depend upon a combination of the following:
Ensuring organic growth of our existing school network.
Partnership with the government to manage failing public schools.
Interventions in the affordable private schools market to help improve quality of educational outcomes.
We are currently working on all of these three fronts to enhance our capacity of being able to reach more out of school children in the next 10 years and keep the growth sustainable at the same time.
We are hopeful that our efforts will help us develop many more agents of positive change who will continue to make exceptional contributions to the progress of our country.