This is Something Every Girl Needs!
The following post has been submitted by a TCF volunteer, Durraiz Vazeer, in recognition of the International Day of Girl Child. Durraiz is currently completing his BSc in Economics, Politics and Philosophy from the University of Wisconsin in Canada. 
International Day of the Girl Child, a globally recognised day declared by the United Nations celebrated photo (6)on the 11th October, 2012. This day supports opportunities for girls, and increases awareness of gender disparities faced by girls worldwide. varying from access to education, nutrition, legal rights, medical care, and protection from discrimination, violence and child marriage.
Significance of this day is associated to different parts of the world, which includes a large part of Sub-Saharan Africa, and South and West Asia. Coherently, a country where this day might not be observed in great popularity but is of great significance is, Pakistan.
Pakistan foresees a mountain of challenges, most of which are intertwined with a lack of well-grounded structure of education for the poverty-stricken. If we dig a little deeper into this problem, naive cultural and social norms play a big part in the lack of education amongst the poor. "My son? Yes, he can study. He'll be financially helpful once he starts working" What about your daughter? "She does not need to study; she is going to get married eventually." Unfortunately, this is the ideal way of life for the one already deprived of education.
According to UNESCO's report on Pakistan's educational system, female youth (aged 15 to 24 years) faces a literacy rate of a staggering 53% compared to a 77% amongst the male youth. If we start pointing fingers on whose fault it is, it will take awhile.
But, who addresses this dire problem of education then?
This is when The Citizens Foundation comes in to help the country in these times of educational turmoil. TCF is a non-profit organization initiated by a few concerned citizens in 1995. But, what does TCF want? It's vision is to diffuse schools in societies where people never saw the face of a school. To date, there are 1000 schools and the student enrolment in these schools has risen to a remarkable 145,000 students.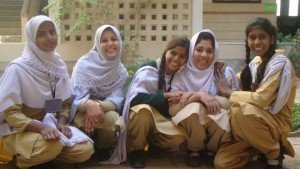 A lot of other organizations have tried to pursue such goals/ Then how has TCF distinguished itself from the rest?
They have the largest network of a non-profit in Pakistan. Regardless of this obvious success, the management of TCF has come up with a well thought plan to tackle social and cultural barriers in remote areas. During the initial stages of TCF when enrolment first started for the school, a concerned mother came and spoke to Mr. Mushtaq Chappra (Chairman TCF). She said, "I am ready to send my daughter to school but only on one condition – if there are only female teachers in the school."
Simple enough, right? This much uncomplicated idea became the core foundation of TCF's policy and as of 2014, there are 7700 teachers teaching at the 1000 schools, all females. It is also TCF's policy to ensure a 50% female ratio in any given class room.
Luckily, this isn't the end.TCF also has an adult literacy programme called the Aagahi programme. This programme targets women specifically, and basic Mathematics and Urdu is taught in this programme. There's still a long way to go. It would only take a little bit of our precious time and money to spread the word and contribute towards this noble cause.