TCF takes over management of 89 Government schools across Pakistan
Published in The Nation
The Citizens Foundation (TCF) has taken over management responsibilities of 89 Government schools across Pakistan in order to help improve the quality of education, school administration and enrolment of out-of-school children. This move follows a series of strategic partnerships between TCF and key public education stakeholders in the Punjab, Sindh and Khyber Pakhtunkhwa governments. After signing MOUs with Pakistan Railways (1 school), KPK Ministry of Education (5 schools) and Sindh Education Foundation (3 schools), TCF's most significant Public-Private Partnership venture is the recent takeover of 80 Government schools under an agreement with the Punjab Education Foundation and the Punjab Schools Department.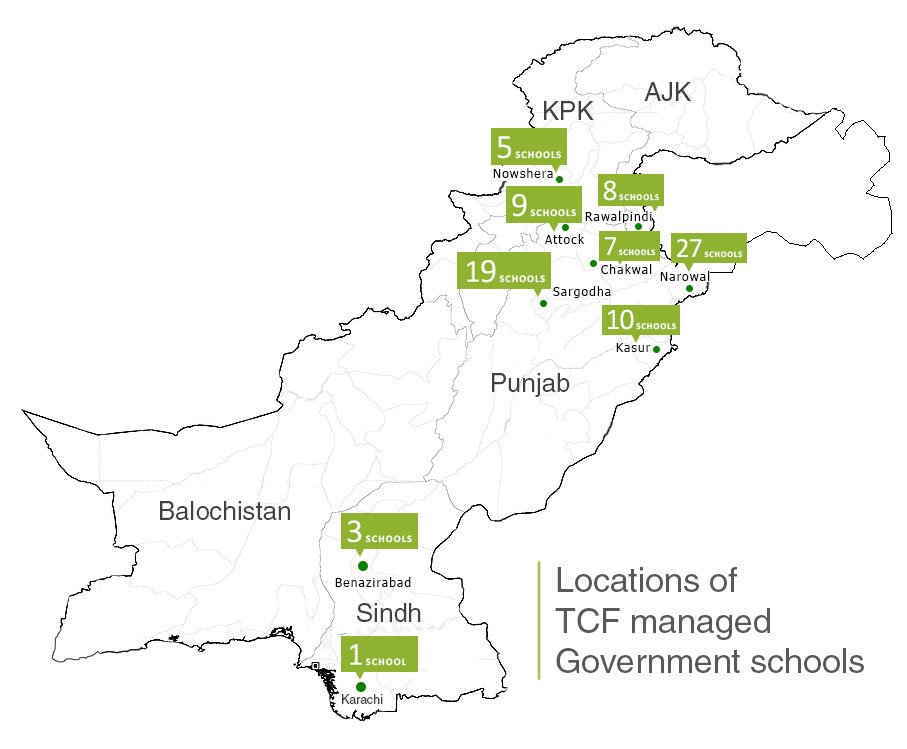 With responsibility for day to day operations, TCF will mobilize school communities and introduce modern management systems and processes, curriculum enrichment, teacher training, and continuous monitoring and evaluation for these adopted public schools. Through these ongoing processes, TCF will replicate its tested administrative and academic model across these schools with a view to increasing enrollment and improving quality of educational outcomes.
After establishing more than 1,000 school units in urban slums and rural communities across Pakistan, The Citizens Foundation has now resolved to magnify its impact from currently enrolled 175,000 students to reach the next 1.5 million learners through organic growth as well as strategic innovation. As a key element of this strategy, TCF will expand its partnership with all provincial governments and apply its cost efficient model of education to improve the functioning of many more struggling public schools.
As TCF embarks on this new journey of taking the light of education to more Pakistani children, we need even greater support of our well-wishers. To be a part of TCF's education movement and revive our Government school system please SUPPORT and make education happen today.