Young artists receive awards at TCF Art-a-Thon 2016
Published in Dawn
ISLAMABAD, March 4, 2016: The Art-a-Thon 2016 award ceremony was hosted on Wednesday by the Satrang Gallery and Islamabad Serena Hotel. The competition is a city-wide art competition that raises funds for The Citizen's Foundation (TCF).
TCF is a non-profit organisation that provides education to underprivileged children. Incorporated in 1995, TCF has 1,060 purpose built schools across Pakistan, with an enrolment of 165,000 students.
Some 2,000 children participated in Art-a-Thon 2016, from various schools including Beaconhouse School, City School, Convent, Froebels International, Joint Services Public School, International Grammar School, Lahore Grammar School, Liberal Arts High School, Schola Nova and Preparatory School.
A panel of three judges, the former head of department at the Government College Rawalpindi Tasneem Abbas, Prof Zahidul Haq, and National College of Arts Rawalpindi associate professor Nadia Rahat, evaluated the submissions on the bases of observation, imagination, creativity, originality, skill and composition.
The judges awarded first, second and third prizes, along consolation prizes in each of the four categories. Students as young as five or six years old participated in the competition.
The judges were not aware of the childrens' names or their schools, making it interesting to note the gender balance among the winning students, and a fair number of participants and winners from TCF schools.
"We are thrilled that the Satrang Gallery art competition has provided a level playing field for all the participating children. So we have winners from the TCF schools for underprivileged children alongside the private school [students] of Islamabad and Rawalpindi," Asma Rashid Khan said.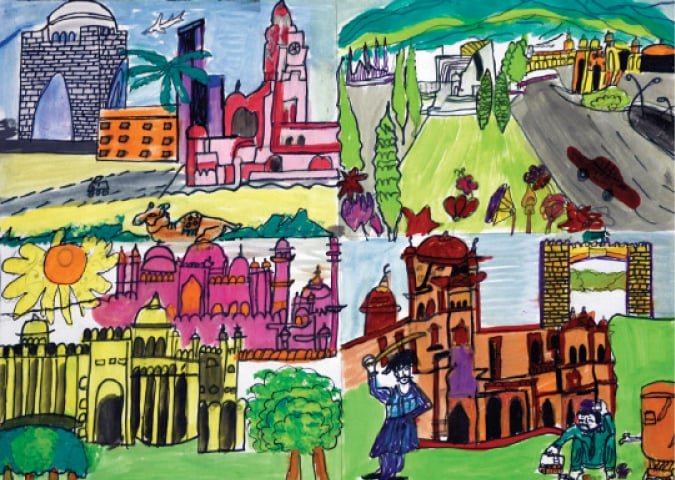 Naveed Ikram, who won first prize winner in the Grades 5 and 6 category, which had the theme 'My Beautiful Country', said: "I drew the different provinces of my country and the capital. I spent a lot of time on my drawing and kept trying to make it special so it made me very happy when my teacher told me I had won first prize."
The judges also decided to award a special prize which they called the Judges' Choice Award to a young artist who they felt was a "Sadequain" of the future. Rahim Zeejah, the first prize winner from the Grade 7 and 8 category, received the award.
Rahim said: "I drew a drawing of the future with robots and flying cars – the Earth in the past, present and the future.
The past was good, while the present was not as nice but with time the future was improving."
Rahim's mother, Faiza Zeejah, said: "I'm very excited and very proud because Rahim is very good at art and I was expecting him to do well here. Both his father and grandfather are artistic but Rahim is very talented."
Read more: